---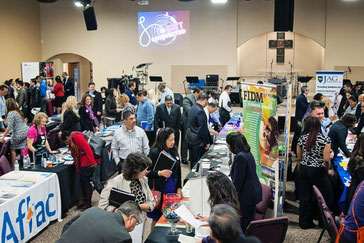 Effective Practical Local Ministry-- Host a Job Fair 
In 2012, Gerhard Kramer was serving on his church's board, brainstorming ways to reach people for Christ in his community. 
1. What is a practical need that our church can fill?
2. How are we going to stand out from the crowd? 
3. How can we reach people who live a few blocks away?
The answer would grow far beyond anything he imagined.
Here he shares the story and the impact of reaching over 16,000 people throughout California and beyond.
 In the beginning, Church Job Fairs consisted of a handful of events held at Cucamonga Christian Fellowship. While hosting these job fairs, he was approached by several pastors who wanted him to arrange events at their own churches. Though Gerhard was initially resistant to the idea, God had a different plan — a different calling — in mind.
A good friend and pastor advised him to pray about the possibility and, a few months later, Church Job Fairs was born.
"I took a leap of faith. I quit my job," Gerhard said. "It didn't happen immediately, but I quit my job and stepped out and said, 'Okay, God. You and me, here we go. I am called to be an evangelist and to preach the gospel in a practical way."
Now, expanding across the nation, with more than 50 events per year, JobsNow.org partner to offer the dignity of employment by connecting job seekers and employers in safe local community locations.
CONSIDER HOW YOU MIGHT PARTNER WITH OUR MINISTRY. 
As a 501c3, donor-funded ministry. We provide our entire ministry event at no cost to the local church.
Each job fair presents hundreds of job seekers with the unique opportunity to find employment, while also being introduced to Jesus and a local community that cares. 
"Not only are we offering them the tangible resource of a job or prospective job," Matt Doan, a pastor who offered a job fair at his church, said, "but we're getting to share personally, with each person on our campus, the hope and encouragement we find in Jesus Christ."
Each job fair is staffed by coaches and volunteers from our organization and members of the hosting church. Pastors also offer a welcoming presentation. Best of all, as job seekers exit the job fair a prayer team is available to voluntarily meet with and pray for any attendee who is willing, -- most are willing!
Charlotte Hubbard, a prayer team member from one of the events, said they pray for specific needs in attendees' lives, for success with the job hunt, for the skills needed for open positions, and for salvation.
"My privilege today was to be at the prayer table to pray for people, for their jobs, for salvation, for hope, for endurance, for strength, to trust God," she said. "Some would be hesitant, but then they would let us pray with them. Others came and asked for prayer. We were able to pray for them and encourage them to get connected with a church group and mature in the Lord."
As our ministry grows and has developed during the past six years, we have seen lives changed physically, financially, and spiritually. Pastor Fraser Venter, has hosted four event and said he has watched people receive the help they need through Church Job Fairs, then turn around and give back to the ministry.
"We have seen people who have found jobs, have come in through our doors, become a part of our church. We've seen people contribute," he said. "We've also seen now, people who have gone through the job fairs who are now a part of the Church Job Fairs organization. It's just been an amazing thing."
Our work isn't done and as we expand nationally to spread the gospel in a practical way, we hope that we can make a tangible difference in the physical and spiritual needs of the people we meet.
"Shouldn't the church be known for what it's for, not what it's against?" Pastor Venter said. "We're for giving people hope, so let's combat this unemployment issue and believe for 0% unemployment supernaturally."
Will you partner with us to battle unemployment and spread a message of hope?
If you want to host your own event or volunteer, visit our website
Want to share a comment? Share it with us below.
Gerhard Kramer is Founder of Church Job Fairs. Part of JobsNow, a nonprofit offering the dignity of employment by connecting job candidates and employers in empowering local community environments.
Related Articles: