---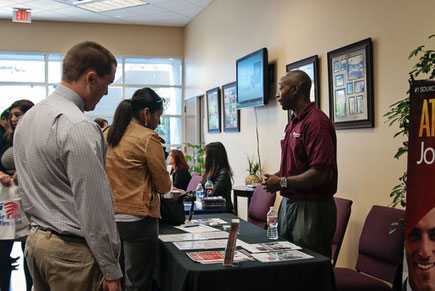 If you have been tuning in to our Path to Employment series, you have learned several secrets to improving your job fair game. At this point, you've hopefully created your resume, cover letter, job fair outfit, elevator pitch, and game plan for working the room. If not, take some time to work through those steps before moving to this next stage.
We've given you tips for creating your elevator pitch and networking, but you also need to prepare for your first minute meeting with a potential employer. These 60 seconds can lead to a second, longer interview or prevent you from getting the job. To make sure you nail this meeting, use the tips we've included below.
1. Be prepared
Though we covered this previously, we want to reiterate the importance of being prepared. Have copies of your resume and cover letter, know which job you are pursuing, and have your elevator pitch written and practiced. Be ready to show that you are capable of handling pressure, responsibilities, and professional conversation.
2. Anticipate recruiter questions
Every employer is going to have questions for you during this first minute meeting. While you can't know every question you'll face, you can get a general idea from a quick Google search. For example, you may face questions such as:
"Why do you want this position?"

"What can you bring to this role and to our company?"

"What do you know about our company?"

"Are you currently employed?"

"If yes, what do you do?"

"If no, why not?"
Prepare answers to common job recruiter questions like these and you'll be in a good position for your interview. Above all, be honest. Even if you are uncomfortable with or aren't proud of the answer, the truth is always the best option.
3. Have your own questions
Good answers can increase your chances of getting an interview, but good questions are even more impressive. Before the job fair, research the companies you are most interested in. Create your own questions to ask during your first minute meeting, questions that will get you noticed while getting more information about the employer and position. Some examples include:
"What do I need to know for the application and interview process?"

"What responsibilities will this position include?"

"Who can I contact if I have additional questions?"
This is a short meeting, so don't take up too much time asking your questions. Just address the most important points and include the rest in your formal interview.
4. Be courteous
Time is important, especially at a career fair. Be respectful of each job recruiter's time and the time of the job seekers in line behind you. Don't rush through your meetings, but use only a few minutes at most. This will help you leave a positive impression and show respect for everyone involved.
Want to share a comment? Share it with us below.
Gerhard Kramer is Founder of Church Job Fairs. A Nonprofit offering the dignity of employment by connecting job candidates and employers in empowering local community environments.
Related Articles: