---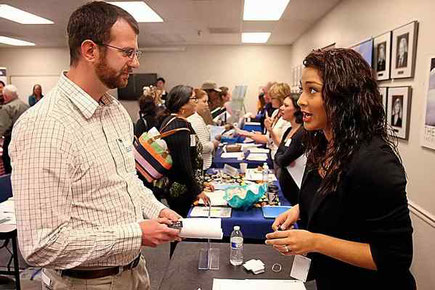 Michelle takes a deep breath. Now's her time.
She steps toward the job recruiter and extends her hand with a smile.
"Hi, I'm Michelle," she says. "I'm interested in your open position."
"Hi, Michelle," the job recruiter replies. "Why would you be a good fit for our company?"
Another deep breath. Here goes nothing.
"I would be a good fit because…"
Michelle freezes. Why would she be a good fit? She stammers her way through an answer, unprepared and unsure. 
The job recruiter thanks her and moves on to the next person. Michelle walks away disappointed and embarrassed.  She doesn't get the job.
Most of us have experienced a moment where we were unprepared for the questions we faced, but you don't want this moment to happen during an interview. 
We've created these tips for a winning "elevator pitch," the short speech you present to employers and recruiters at career fairs, to help you present your best when it matters most. Use the suggestions below to create an elevator pitch that will help you avoid Michelle's experience.
1. Write it down
Physically creating your twenty-to-sixty-second elevator pitch will help you remember it, but it also allows you to make sure you have everything you need. Your pitch should communicate who you are, what you do, and what you are looking for in your employment. Answer these questions in the first 10-15 seconds and then use the rest to share relevant skills, your unique contributions, and how you can help the employer.
2. Focus it
The best elevator pitches have a clear goal. Be able to describe the position you're pursuing and your field, so others can help you find your ideal job. Also, remember that companies want to know why hiring you would be a benefit to them. Your pitch should show how your experience and skills will be useful to your employer.
3. Practice!
Start by reading your pitch out loud. Your written pitch may sound overly formal, so use this technique to catch and change any awkward phrases. Don't try to memorize your pitch, as this can make you sound like a robot, but practice until it doesn't sound rehearsed. Time it to make sure you won't take much longer than a minute. Try reading it before a group of friends to get used to presenting it to people and ask for constructive feedback.
4. Prepare multiple variations
You never know what situation you'll find yourself in, so create several variations of your elevator pitch. Have a short option and a longer, more in-depth version. Know which points are the most important to include and stay adaptable.
5.Believe in yourself
Confidence is key. Remind yourself of your capabilities and accomplishments. When you show employers that you believe in your potential, they are more likely to agree with you. You don't want to come across as arrogant, but quiet confidence can be an effective self-marketing tool.
Want to share a comment? Share it with us below.
Gerhard Kramer is Founder of Church Job Fairs. A Nonprofit offering the dignity of employment by connecting job candidates and employers in empowering local community environments.
Related Articles: