---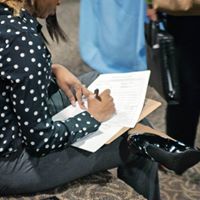 Path to Employment: The Dress Code
"Don't judge a book by its cover."
This age-old adage has been repeated thousands of times through the years, but it doesn't change this simple truth: first impressions form the foundation of our actions and often stick.
Though you can often fix a bad first impression with hard work and time, you don't get that opportunity when meeting an employer at a job fair. During your three minutes of face-time, each job recruiter will make a judgment that will affect your ability to land the job.
Unfair, maybe, but ultimately true.
The good news is there are several ways to make sure your first impression is positive. For this segment of "The Path to Employment," we're going to focus on the clothes you choose to wear to a career fair. For tips on choosing the best attire for these events, read about the job fair dress code below.
1. Clothing
While comfy pants and a t-shirt may be the most comfortable outfit for your job fair attire, it will negatively affect your chances of finding work. Instead, aim for an outfit that is "business casual" or "interview" attire. Suits are appropriate for both men and women. If you don't have one, wear dress pants or khakis with a dress shirt and tie, for men, or a blouse with a modest neckline for women. Skirts can also be worn, as long as the hem is only two inches or less above the knee. When choosing your outfit, go with neutral colors, such as black, navy, or gray.
2. Shoes
Most importantly, you want your shoes to be in good shape. Polish or mend them, as needed, before the big day. Men should wear dark socks with either loafers or wing tips. Heels are acceptable for women, but they should only be of low or medium height. You can also wear flats.
3. Hair
You know what looks best for your hair, but make sure it complements your professional attire. Try to keep it off your face and refrain from playing with it during your interviews. Men, keep your facial hair trimmed and clean. Overall, you want your hair to look nice, but you don't want your hairstyle to draw any attention from your presentation.
4. Accessories
As with your hair, you want your accessories to complete your professional appearance. Choose simple jewelry, earrings, and watches. If you bring a bag, choose a good-quality portfolio or briefcase. You are going to be talking closely with several people, so keep your cologne or perfume to a minimum and use a breath mint or gum to freshen your breath.(our churches will provide you with a mint!)  Most importantly, SILENCE YOUR CELL PHONE. You don't need it and you can check it when you leave.
Whether you can tell or not, job recruiters do notice these things, so do your best to leave a good first impression and let your appearance speak for you.
Want to share a comment? Share it with us below.
Gerhard Kramer is Founder of Church Job Fairs. A Nonprofit offering the dignity of employment by connecting job candidates and employers in empowering local community environments.
Related Articles: