---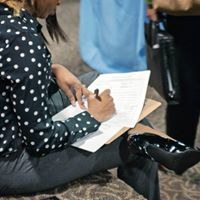 Churches offer useful tips Before Entering Job Fair
Job seekers are often on their own when it comes to attending job fairs and meeting with the recruiters. In many instances, it has been a long time since their last job search or maybe they never learned about interview etiquette to begin with. At the Inland Empire Job Fair, one gentleman was impressed with the church's offering of advice to job seekers. "The church stopped, prepared us before we came in. Told us what to do. Some people need a lot of the basics... Keep your tie straight, smile, firm handshake, mints for your breath. All of those are small things that a lot of people need."
Church Job Fairs offers a few other standard tips to ensure that job seekers get the most out of every job fair they attend.
Another positive preparation service Church Job Fairs offers to their job seekers is a prayer before meeting with employers. "There is even a prayer booth for people who need spiritual guidance and a lot of the people who came representing the companies are very encouraging so I am really pleased about all of that," said the man from the Inland Empire Job Fair. Going into a job fair with the right state of mind and with hope for the future can be just as advantageous as having a resume handy.
Have a comment to share? Share it with us below.
Gerhard Kramer is Founder of Church Job Fairs. A Nonprofit offering the dignity of employment by connecting job candidates and employers in empowering local community environments.
Related Articles: