---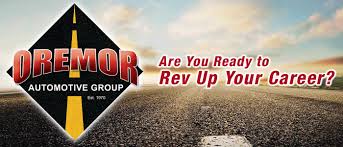 Oremor Automotive loves Magazine Provided by Church Job Fairs
At a recent Church Job Fair, Human Resources from Oremor Automotive Group, Lorraine Sanchez, said that one of the things they really liked about the job fair was the full-size, color magazine given to job seekers in attendance as they waited to enter the event. When asked why she thought it was a good thing to have, Lorraine replied, "It's been awesome. It's been a really good tool, I think, for everybody, because it made everybody come to our booth."
Another benefit of the magazine is if a job seeker misses speaking with one of the recruiters, he has the magazine with him as he leaves and may contact companies he did not speak with during the job fair.
So what is the magazine all about? According to Lorraine (Here's the Video) , "it has the different vendors." Alecia added that there is "a listing of everyone that's inside so you can generalize it." This helps the attendees know before they enter the fair exactly how many companies and what types of companies are present at the event. Lorraine went on to say that because the magazine featured their company on the front page, people sought out their booth first in order to find out their company's location.
Does the magazine help job seekers know something about the companies present before they walk in the door?  "Absolutely," replied Alecia, who added, "this gives them something to read before they come in, so they'll know which companies they actually want to go to first." Then, as the attendees browse around the job fair, they can use the magazine to help them decide what other companies to visit. 
Church Job Fairs attract local, regional, and national companies, and this quality magazine describes these companies with a full page advertisement. This way, job seekers have a better understanding of the companies that are hiring and what types of positions they have available.
Want to share a comment? Share it with us below.
Gerhard Kramer is Founder of Church Job Fairs. A Nonprofit offering the dignity of employment by connecting job candidates and employers in empowering local community environments.
Related Articles: