Preparing for a job fair can be broken down into two parts, mental and physical....
---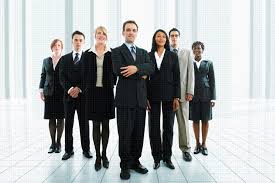 Choosing What Colors to Wear to a Job Fair
Preparing for a job fair can be broken down into two parts, mental and physical. On the physical end, the importance of your first impression can't be overstated. There is honestly little-to-no chance that you will ever get a job because of your appearance, but you can definitely lose one.
Tried and True Colors
Don't let that frighten you, there are some pretty standard principles that have been established through the years of interviews conducted. In addition to wearing appropriate dress attire, be mindful of your color selections. Although men should be aware of this with particular regard to shirt and tie colors, women have a more precarious task when choosing what colors to wear to a job fair.
The rule of thumb for color selection is to keep the look professional, muted and avoid loud colors or unusually cut garments. All of the autumn and base colors: black, grey, brown, navy blue for example, are effective and appropriate choices. The idea is not for your attire to be the center of attention, but your professional and prepared character. That preparation leads us to the mental aspect of the equation.
Wisdom in Mental Preparation
Being mentally prepared isn't optional if the goal is to present your best self. From employer study to interview rehearsal, the largest amount of time before a job fair should be dedicated to mental preparation. There are excellent sources to guide and help you understand the preparation process.
Wisdom is precious, and we are told to seek it. Following proven and time-tested practices and preparing mentally for that job fair is not merely a good idea, it is wisdom.
Have your own tips or comments? Share it with us below.
Gerhard Kramer is Founder of Church Job Fairs. A Nonprofit offering the dignity of employment by connecting job candidates and employers in empowering local community environments.