A lot of work goes into the planning and execution of a successful job fair, and a lot of different parties have a stake in our events. 
---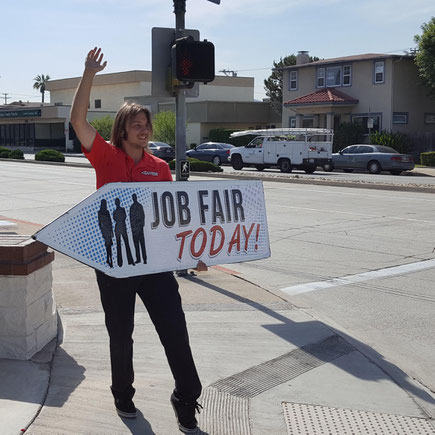 A lot of work goes into the planning and execution of a successful job fair, and a lot of different parties have a stake in our events. Partnering with local pastors and their congregations, dialoging with prospective area employers, training volunteers to interact with job seekers--none of that stuff matters unless people actually show up on the big day.
Since many of the churches that host our job fairs are located near busy intersections, we decided to turn to AArrow's world-famous sign spinners to get motorists' attention as they drive by. Sure, we do plenty of advance advertising, but we also know that we live in a world full of noise and distractions. People forget, and some just slip through the cracks and never get the message. But not even the most distracted driver could miss this head-turning display on her morning commute. And even the most rejection-weary job seeker would have to smile at this lighthearted invitation. More importantly, talent-seeking employers are going to want to be a part of something where people are having this much fun.
The folks at AArrow invented the sport of sign-spinning back in 2002, and they've canonized some 500 official tricks for their spinners to learn for their street-side improvisations across the country. Their employees work together as a team on a weekly basis to refine these techniques, and each year they participate in a two-day Championship to push themselves toward greater excellence. That makes for some pretty incredible skills with a sign, but it also makes for better-rounded job candidates in a highly competitive workforce. Part of why we enjoy working with AArrow so much is because their values align with our own. They believe in hiring and investing in quality talent, and they have a passion for helping young people acquire the entrepreneurial skills that will build the next generation of community business leaders. Like us, they're committed to eliminating the scourge of unemployment by inspiring the best in others, and they're out to show that making a living means putting yourself out there--and having a great time doing it.
We're out to make a difference in our communities, too, and we're not afraid to show it. Our signs may be simple, but we believe the message is profound: "This way, folks! People are looking for hard workers just like you!" That's something worth getting excited about. So don't be surprised if you see one of our sign spinners putting on a show at a street corner near you. And when you do, be sure to stop in and find out why we're having so much fun.
Have your own ideas or comments? Share it with us below.
Gerhard Kramer is Founder of Church Job Fairs. A Nonprofit offering the dignity of employment by connecting job candidates and employers in empowering local community environments.
Keep Reading: