For some, job fairs nearby can be the beginning of a long, satisfying career. For others, they are just another disappointment in a...
---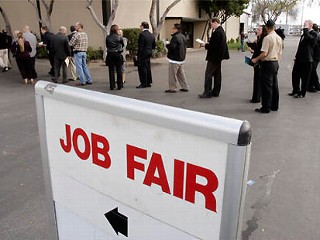 Top Tips for Job Fair Success
For some, job fairs nearby can be the beginning of a long, satisfying career. For others, they are just another disappointment in a seemingly endless search for a new job. 
Though you may feel like your inability to land a job is caused by your lack of experience or a diploma, there may be other reasons for your unsuccessful career fair attendance. Maybe you arrived at the wrong time. Maybe the attending employers weren't a good fit for your skills.
Maybe it was your first career fair and you didn't know what to do.
If you want to get the most you can from the job fairs you attend, use the following tips to improve your career fair game.
1. Prepare
Most of your success depends on what you do before you even talk to the first recruiter. Do research beforehand and decide which employers are your top priority. The dress code for any recruiting event is professional, so choose an outfit that would be fitting for a job interview. Bring plenty of resumes in a nice binder or folder and, if possible, upload your resume to the career fair's website. Arrive early to avoid the rush and stick to the plan you've made.
2. Practice
You are one of hundreds of job seekers, which means you'll only have a few minutes to make an impression on employers. Your "elevator pitch" is a short summary of your experience, skills, and reasons you'd be an asset to each company. Practice this pitch at home and then on low-priority job recruiters before approaching your top employment picks. Also, remember that you are having a conversation, not just spewing pre-rehearsed words. Be a person, not a robot.
3. Act professionally
Shake hands, make eye contact, and smile. Ask questions that pertain to the position and can't be answered on the company's website. Do your best to make a positive, lasting impression on each recruiter. Take business cards for follow-ups and respect other job seekers by not taking up too much time.
4. Take every opportunity
When attending a job fair, stay open to unexpected interactions. Meet with your desired employers, but don't ignore other companies and job seekers. Instead of waiting in long lines, take that time to speak with job recruiters who aren't engaged. Network with other job seekers in lines and throughout the event. You never know who could connect you with a job and you don't want to miss an opportunity.
Do you have a job fair success tip? Share it in the comments below!
Gerhard Kramer is Founder of Church Job Fairs. A Nonprofit offering the dignity of employment by connecting job candidates and employers in empowering local community environments.